---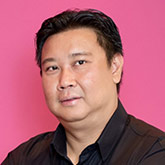 "Uptime Institute's Tier Certifications ensure consistency in quality standards within the industry worldwide and serve as good guidelines for customers to evaluate different data centres. Achieving this certification proves that we continuously strive to meet the highest reliability and resilience standards that are critical for many of our customers' requirements."
Chiew Kok Hin
Chief Executive Officer
AIMS Data Centre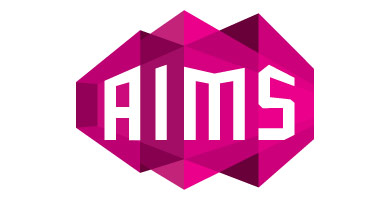 AIMS Cyberjaya is AIMS' first purpose-built flagship data centre. It is located in Cyberjaya, which is positioned by the Malaysian government as a technology hub.
With a scalable power capacity of up to 50MW, the facility can cater to hyperscalers, safeguard mission-critical data and afford the same vast interconnectivity synonymous with the AIMS name to customers, making it suitable for companies who require high power usage and large floor space.
AIMS Cyberjaya leverages the established interconnected ecosystems of AIMS data centres in Malaysia, Thailand and Vietnam to provide faster, more cost-efficient connections between a wider variety of businesses.
AIMS' expertise as a top cloud infrastructure service provider in Malaysia enables it to help Southeast Asian businesses leverage our infrastructure for hybrid IT cloud deployment and multi-cloud strategy. As Malaysia's first and only cloud exchange, AIMS has direct access to three major global cloud service providers, including Microsoft Azure, Amazon Web Services and Google Cloud Platform, allowing private, secure and reliable cloud connectivity with a guaranteed uptime of up to 99.99%.
AIMS Cyberjaya has concurrent maintainability, allowing for any planned power and cooling system maintenance activity to take place without disrupting the operation, ensuring customers' IT infrastructure in its data centre is always up and running.
Understanding the importance of keeping customers' data safe, AIMS Cyberjaya obtained the Threat, Vulnerability and Risk Assessment (TVRA) compliance to ensure the facility is fully capable of handling security issues. It also has a concurrently maintainable site infrastructure and 24x7 on-site auxiliary police.
As Malaysia's leading interconnection hub, customers in AIMS Cyberjaya will have direct access to Malaysia Internet Exchange (MyIX) with 100% domestic and 80% foreign network services providers on its premises, resulting in cost-effective connectivity options and lower latency for a better, more reliable user experience. As a subsidiary of TIME dotCom, AIMS Cyberjaya has access to terrestrial & submarine cable systems spanning two-thirds of the globe to facilitate Southeast Asia expansion plans.
As data centre infrastructure continues to be the driving force in the rise of the digital economy, the new reality is that increased uptime, adaptability and resiliency are the business attributes that matter most (especially for enterprise customers). This translates into a massive demand for facilities that are designed and constructed to meet leading global industry standards, while having the hyperscale capacity to support the growth of enterprise business' 24x7 digitalisation efforts.
In this market, it's no longer a case of what customers need now – it's about what they'll need in the next five to 10 years. With multiple customer segments to serve, AIMS has been highly focused on designing and building quality, reliable and resilient data centres that can meet its clients' critical (and rapidly changing) business needs and requirements.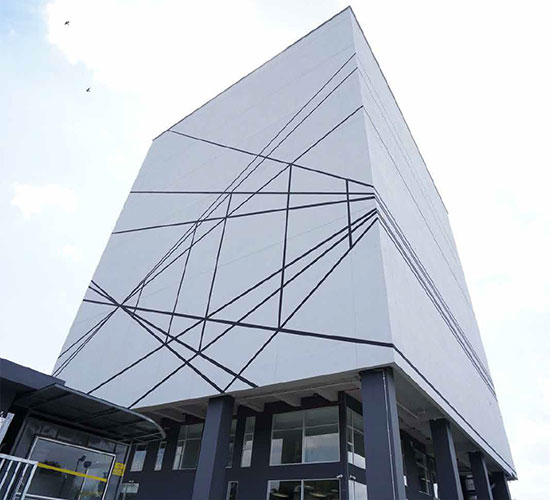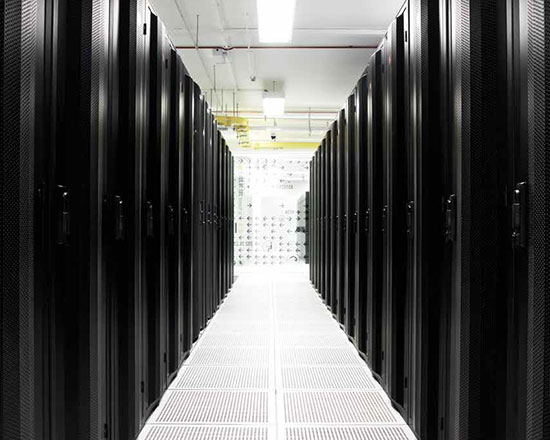 In anticipation of customers' growing demand for a hyperscale data centre, AIMS expanded its already symbiotic data centre ecosystem by designing and building AIMS Cyberjaya as a greenfield hyperscale data centre. This new purpose-built data centre is equipped with the space, power, cooling, connectivity and other technical infrastructure required to support the mass scale requirements of data, cloud computing, systems, applications and more.
AIMS worked closely with Uptime Institute from the earliest stages and received first Tier III Certification of Design Documents in April 2020. This award confirmed the facility design aligned with AIMS' intended capacity, reliability and functionality, and boosted confidence that AIMS Cyberjaya can meet industry standards while addressing customer needs and ensuring high availability of critical systems.
Following this, AIMS pursued a Tier III Certification of Constructed Facility, which Uptime Institute awarded in May 2021. This Constructed Facility Certification ensured that the data centre had been constructed as designed, verifying that the finished product is capable of meeting the defined requirements for performance, effectiveness, and reliability.
These Certifications help AIMS differentiate from competing solutions and give customers the confidence that the company can meet the world's leading data centre reliability and resilience standards.
AIMS will continue its ongoing collaboration with Uptime Institute to build up its technological innovation and reputation within the data centre industry, and provide the high-availability, high-quality facilities and services its customers need. Prioritising the Tier Standard is a long-term commitment for AIMS as it continues to improve its operational efficiencies with the expansion and construction of its facilities in the future.
AIMS Tier Certifications by Facility
AIMS Cyberjaya Data Centre – Cyberjaya, Malaysia
Tier III Certification of Design Documents
Tier III Certification of Constructed Facility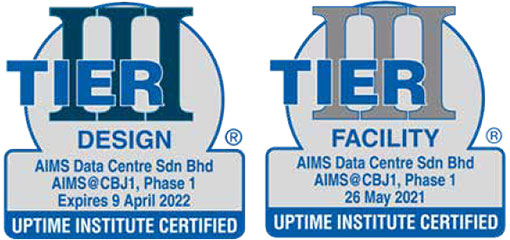 ---