---
Client Story: Cathay Financial Holdings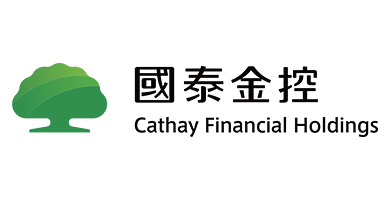 Cathay Financial Holdings, founded in 2001, is headquartered in Taipei City and composed of insurance, securities, banking, and other diversified financial institutions. With robust sales teams and committed financial advisors across Taiwan, Cathay plans to provide one-stop shopping to its customers to ensure a strong leading market position as a fully functioning financial platform. In addition to the company's growth in Taiwan, Cathay is actively extending its footprint in Asia Pacific with a strategic focus on establishing a regional platform that enables the organization to provide integrated financial services to an international clientele and prospective customers.
The Cathay Financial Holdings company consists of the following subsidiaries:
Cathay Life, the flagship insurance company known for having one of the largest sales forces in Taiwan.
Cathay United Bank demonstrates prominent growth momentum in both credit card transactions & home mortgages.
Cathay Century Insurance is dedicated to electronic commerce and has consecutively been awarded the "Best in E-Commerce" award.
Cathay Securities provides customers with "one-stop shopping" across a broad range of financial products and services.
Cathay Securities Investment Trust (CSIT) delivers superior and consistent fund performance with a wealth of experience in operations management and investment research.
With a comprehensive network of 700 branches and nearly 30,000 members in its sales force, Cathay currently serves over 13 million customers in the financial and home markets. To support these diversified businesses, Cathay's strategy is to consolidate existing smaller and scattered data centers into two main data centers.
Cathay's presence in the Asia Pacific region is expanding, positioning Cathay as a top financial institution in the region.
Cathay continues its strong growth objectives by developing integrated financial products tailored to customers' needs and becoming their best partner in personal investment planning. Cathay cares about responding quickly to customers' demand for timely information and works to strengthen employee skillsets and level of professionalism to provide the best quality financial services to customers.
The Challenge / Opportunity
The Quingpu data center is designed to ensure high reliability for customers of its two largest business units. Cathay United Bank and Cathay Life run their Quingpu Phase I Data Center project to support the banking and insurance business.
Cathay Financial Holdings saw the importance of verifying the operation efficiency of the Quingpu Phase I DC with Uptime Institute, a globally recognized third-party international organization, to en- sure the high reliability of infrastructure.
Two-Part Process
The two-part certification award process includes the Tier III Certification of Design Documents (TCDD) (pre-build); and the Tier III Certification of Constructed Facility (TCCF). Cathay began with a Tier III Certification of Design Documents award, which reviews the functionality and capacity evidenced in the engineering and architectural specifications of the facility design, reviewing blueprints, and working with the Cathay team.
During this process, the Uptime team identified necessary design changes that impacted various systems. Cathay and Uptime worked hard to ensure these changes were implemented, and all associated systems and diagrams were checked again for compliance with the high standard required for a Tier III Certification of Design Documents. This ensures that plans, before breaking ground, are configured to meet the company's goals and provide the sustainable business-critical infrastructure the organization requires.
The second phase is the Tier Certification of Constructed Facility, this award ensures the facility is constructed as designed and verifies that it can meet the defined availability requirements. The Tier III Certification helped Cathay to review the engineering contractors' work and quality so that Cathay can ensure the Quingpu DC operates safely into the future.
The Cathay Financial Holdings Quingpu Data Center, Phase 1, went live in July 2023. Cathay has found that the financial industry has made significant changes in the last few years, driven by the rise of fintech and digital finance services. With these changes, Cathay places great importance on using new technology to improve and innovate financial services, and the Quingpu Data Center resides at the core of continued fintech innovation for the organization as they create better digital experiences and inclusive financial products and services for customers.
Cathay's Quingpu DC is the first financial organization in Taiwan to complete a Tier III Certification of Constructed Facility. The organization understood the need to build a safer, more resilient, and reliable data center to build on financial innovation, taking fintech to the next level and possibly a new industry benchmark.
To guarantee its facility's smooth and dependable operation, Cathay enlisted the help of Uptime to verify that the facility was constructed according to plan and could meet the specified availability requirements and infrastructure reliability standards. The facility was equipped with high and low-voltage ties to ensure uninterrupted operation. Additionally, seismic isolation and shock-absorbing systems were installed to protect against earthquakes of up to seven on the Richter scale. The facility also received a "Structural Accreditation" award from the Taiwan Architecture Center. Frequency conversion air-cooling systems with spray cooling kits were incorporated to reduce energy consumption and maintain proper server cooling. These achievements will enhance Cathay's ability to meet customer demands for fast, safe, and reliable services.
The Cathay team understands that obtaining an Uptime Tier III Certification for the Phase 1 Quingpu data center can help the company increase operation confidence and trust in data safety. Uptime's Tier III Certification of Constructed Facility clearly illustrates that deficiencies in the design are identified, solved, and tested before any operations begin. Tier Certification is essential to ensure quality for a new build data center, knowing there are no unforeseen risks in the infrastructure.
The Tier III Certification process began in late August 2021, with completion in late October 2022. To start the process, there were several lengthy discussions with the contractor and consultant following professional advice from the Uptime expert team to prepare for certification and the potential risks during the construction process.
Cathay found the Uptime consultants to be very professional and attentive, giving timely advice and detailed explanation of the precautions for the content of the documents required for certification; they were true professionals.
Cathay learned that safety is always the most important factor in operation and to always be cautious about addressing the challenges and risks associated with a new era of digital finance. The organization plans to continue to improve the IT system to satisfy customers' demand for timely information. Internally, the company will enhance its IT system to support the automation of decision-making, internal audition, risk management, sales information, and operational management. The goal is to integrate every subsidiary's resources and provide financial services in all aspects to let customers enjoy 'One Stop Shopping' services.
Cathay Financial Holdings Data Center with Tier Certifications
Cathay Qingpu Data Center, Phase 1 – Taoyuan City, Taiwan
Tier III Certification of Design Documents
Tier III Certification of Constructed Facility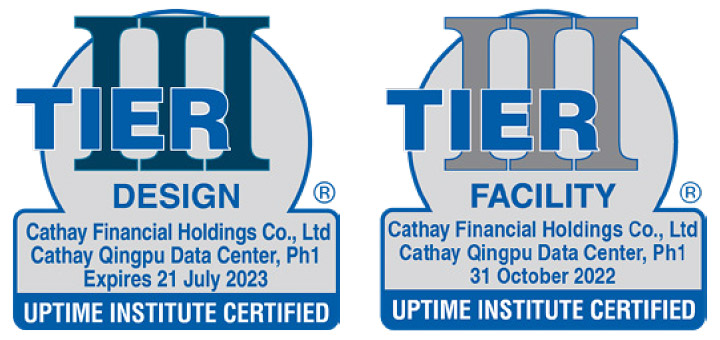 ---